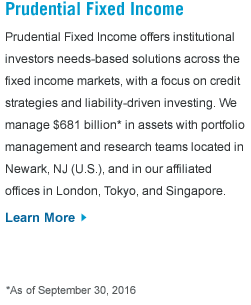 China's Challenging Road Ahead

China's economic transition represents a monumental challenge-it has become much more difficult for the world's largest exporter to simultaneously maintain rapid growth and financial stability. Based on our ongoing analysis, however, we believe China has the tools to avoid a hard landing.


Richard Greenwood, Head of Credit Research, discusses his view on where we are in the credit cycle, as well as his outlook on where the market is headed, July 29, 2014.

Despite an environment of low volatility and strong returns, many active equity managers still struggle to outperform their benchmarks over the long term. It is a phenomenon that underscores the attraction for portable alpha as a concept, particularly its potential for uncorrelated performance and long-term alpha generation.(June 2014)
U.S. Treasury futures are tools that can be used by portfolio managers to help manage interest rate and yield curve risk and to facilitate relative value trading. When used properly within a risk-controlled framework, futures can offer greater relative value, cost efficiency, and more efficient execution than physical securities.(June 2014)
Read More